Give your customer support team a boost
Create real-time KPI dashboards that surface the data your support team needs to excel.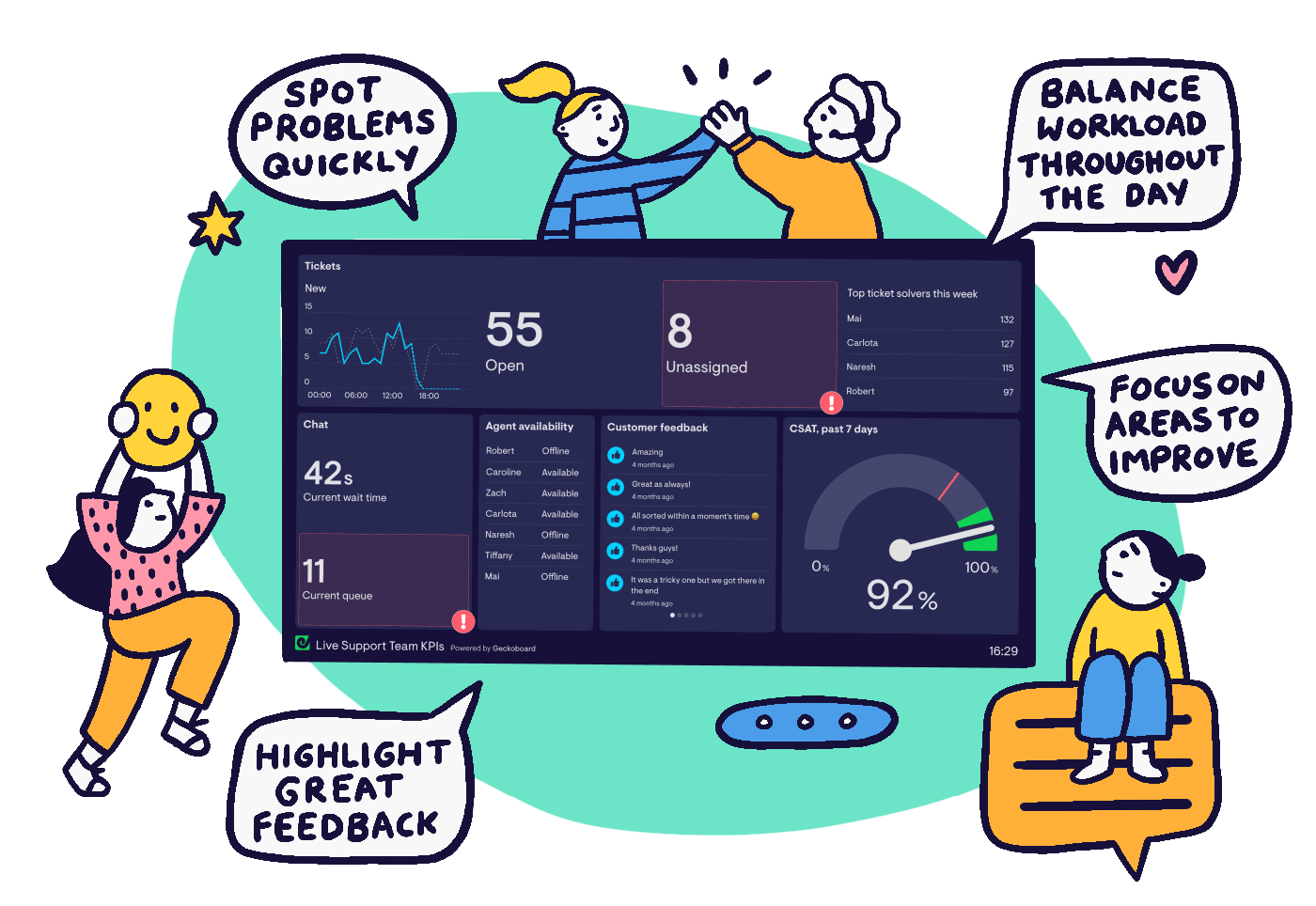 Reports in your ticketing system are holding you back
You can't easily see the state of play right now

Simply getting an idea of how busy different channels are right now, where there might be bottlenecks, and how agents are performing throughout the day often needs several browser tabs open and hits of the refresh button.

Agents don't know what's going on across the team

They might have a feel for how they've been doing individually, but without a wider view, agents must rely on you to know which channels need attention, whether they need to speed up or take their foot off the gas, and if customers are happy.

Your team's efforts aren't fully appreciated

The rest of the company rarely see everything CS are up to. Communicating your team's hard work properly often means spending time stuck building custom reports, or presenting out-of-date numbers to your bosses.
Reports are great for yesterday. I'm interested in today.

With Geckoboard's real-time dashboards, everyone knows exactly what's happening in CS right now

Get up and running with your own tailormade dashboard in just a few minutes*

*No coding, design skills, training, extra seats for your help desk tool, or endless Googling required.

Easily connect all your data sources

Geckoboard integrates with popular customer support tools, including Zendesk, Intercom, Freshdesk, Help Scout, Klaus, Gorgias and Aircall.

You're not limited to just one data source either. Bring data together from over 80 other tools including spreadsheets, databases and Google Analytics.

Show the exact metric you need

Powerful filtering and straightforward out-of-the-box visualizations make it easy to configure your dashboard to show exactly what you want.

Highlight important changes

Set thresholds, goals and status indicators to highlight when metrics like ticket volume, CSAT or SLAs need attention or are worth celebrating.

Try it yourself completely free for 14 days

No strings attached, and if you need anything our own support team is just a click away.

See what our customers say...

AMAZING! I started using Geckoboard as a test, had my first dashboard in 10 minutes and from there we have created many dashboards without any IT involvement or coding.

It gives each of my agents (and myself) the quick-glance knowledge of current workloads, needs, and a variety of other KPIs without any context switching.

For the wider business, it's good for them to see that we are a hugely data-driven team and for them to understand what goes into being a Customer Support team!

Geckoboard is awesome; it's simple to set up, and our agents love being able to track their workload and performance in real-time.

It's generated total awareness for us and for the executive team.