Dashboard creator
Make customizable dashboards in minutes with Geckoboard.
Geckoboard's dashboard creator helps you quickly turn data from different sources into a professional-looking, customizable dashboard that always stays up-to-date.

No coding necessary.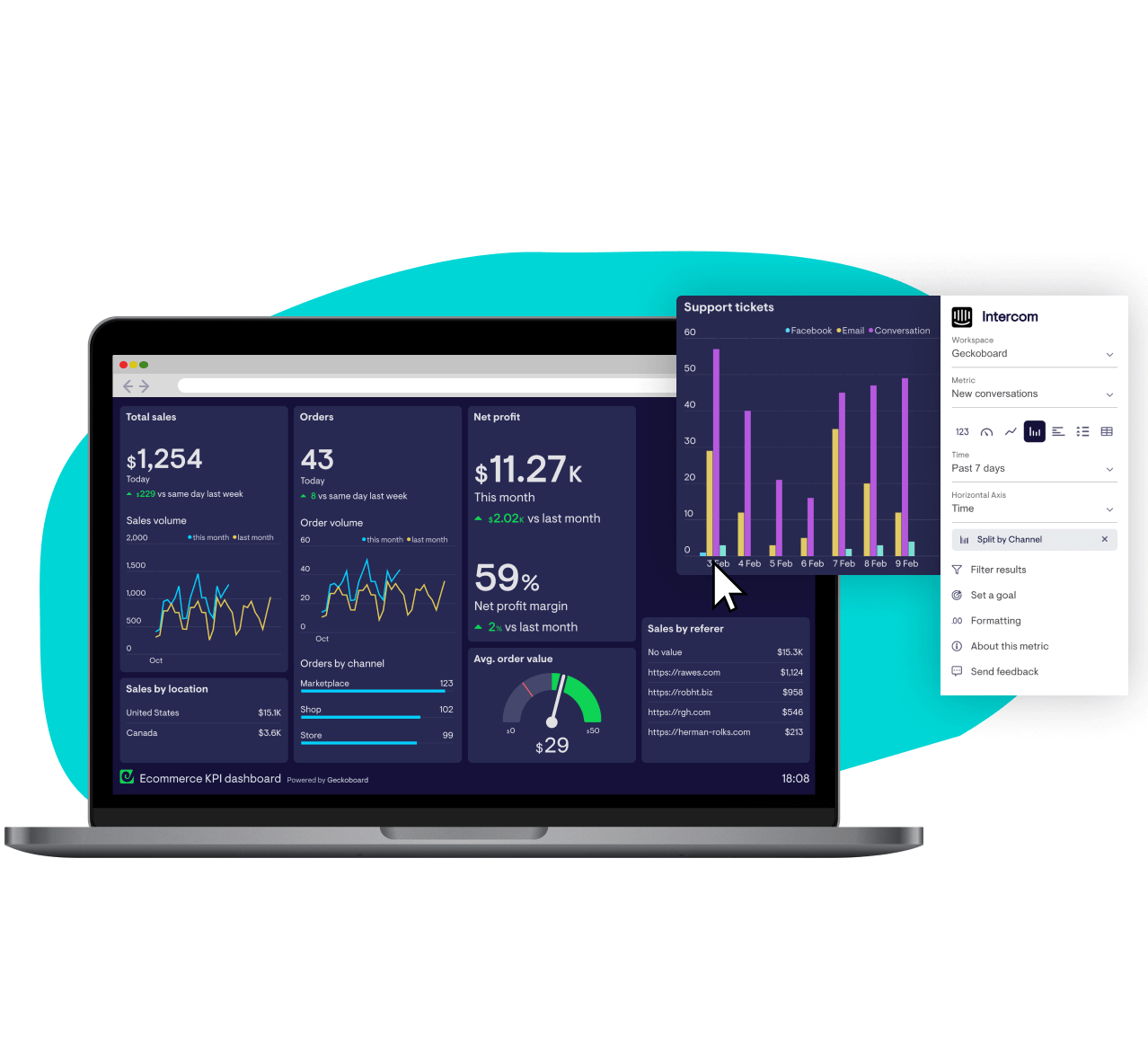 Quick & easy dashboard creator
Whether you're a small business, a manager of a team, or looking to share important numbers across your whole organisation, Geckoboard's online dashboard creator lets you create stunning dashboards from live data in a matter of minutes.
Create a dashboard for every part of your business
Monitor marketing channels

Share sales figures

Visualize company goals

Track product performance

Surface live support metrics

Or create something unique
How to create a dashboard with Geckoboard
Get started for free

Sign up for a free Geckoboard account and start making dashboards right away. It works from your browser, with no downloads required.

Connect your data, from over 80 sources

Securely connect to over 80 different data sources and pull in live data without any coding or complicated setup.

Visualize your KPIs

Turn your data, metrics and KPIs into clear visualisations that are easy to understand.

Design your dashboard how you want it

Move, resize and group your visualisations, with our easy-to-use dashboard builder.

Get eyes on it

Create a sharing URL. Set up automatic screenshots for email or slack. Display it on a big screen.
Everything you need to create and share your own dashboards
Drag and drop interface

Get up and running quickly in your browser without any training. You're in control.

Clear visualizations

It's a pie chart-free zone. . All our our out-of-the-box visualisations are optimized for clarity and comprehension.

80+ integrations

Quickly pull in live data from the tools you use day-to-day. We're always adding more.

Spreadsheet integration

Turn dull spreadsheets into professional-looking dashboards, synced to your Google Sheets and Microsoft Excel files.

Custom themes and logos

Customize your dashboards with your brand logo and colours.

Amazing support

If you get stuck or have questions, our dedicated support team can help. They usually respond in under 10 minutes.
We have gone from spending a lot of time and effort creating charts within PDF docs to a spreadsheet-powered dashboard that is easy to create, update and share. I'm excited to be able to share the information on our dashboard, and our board members love it!
As a fast-growing, local business, we needed something to help teams track their performance on a weekly and daily basis. We chose Geckoboard because it's easy to use and easy to digest. The numbers don't lie – since we introduced Geckoboard to the office, we've seen a dramatic revenue increase of 85.7% vs. this time last year.