What's this dashboard for?
This SEO dashboard gives me an easy-to-digest summary of key SEO analytics and metrics I need to regularly check in order to make sure our website is optimised for organic search.
The main tool I use for monitoring our SEO efforts is SEMrush, and most Monday mornings I'll dedicate a little time to look through our weekly site audit, so I can raise any action we need to take at our team's planning session later that day. Organic search is an important channel for us, so in order to make sure we don't drop the ball when it comes to our SEO efforts, I made this dashboard to make sure we're on top of any issues week-to-week.
Many of the metrics on this dashboard come from SEMrush itself. Geckoboard doesn't have a native integration with it, but it's easy enough to get SEMrush data on to the dashboard using Supermetrics' addon for Google Sheets. Supermetrics makes it straightforward to access almost any metric or information in SEMrush (and many other specialised marketing tools) and import it into a Google Sheet. From a Google Sheet, it's super-easy to visualize in Geckoboard using Geckoboard's spreadsheets data source.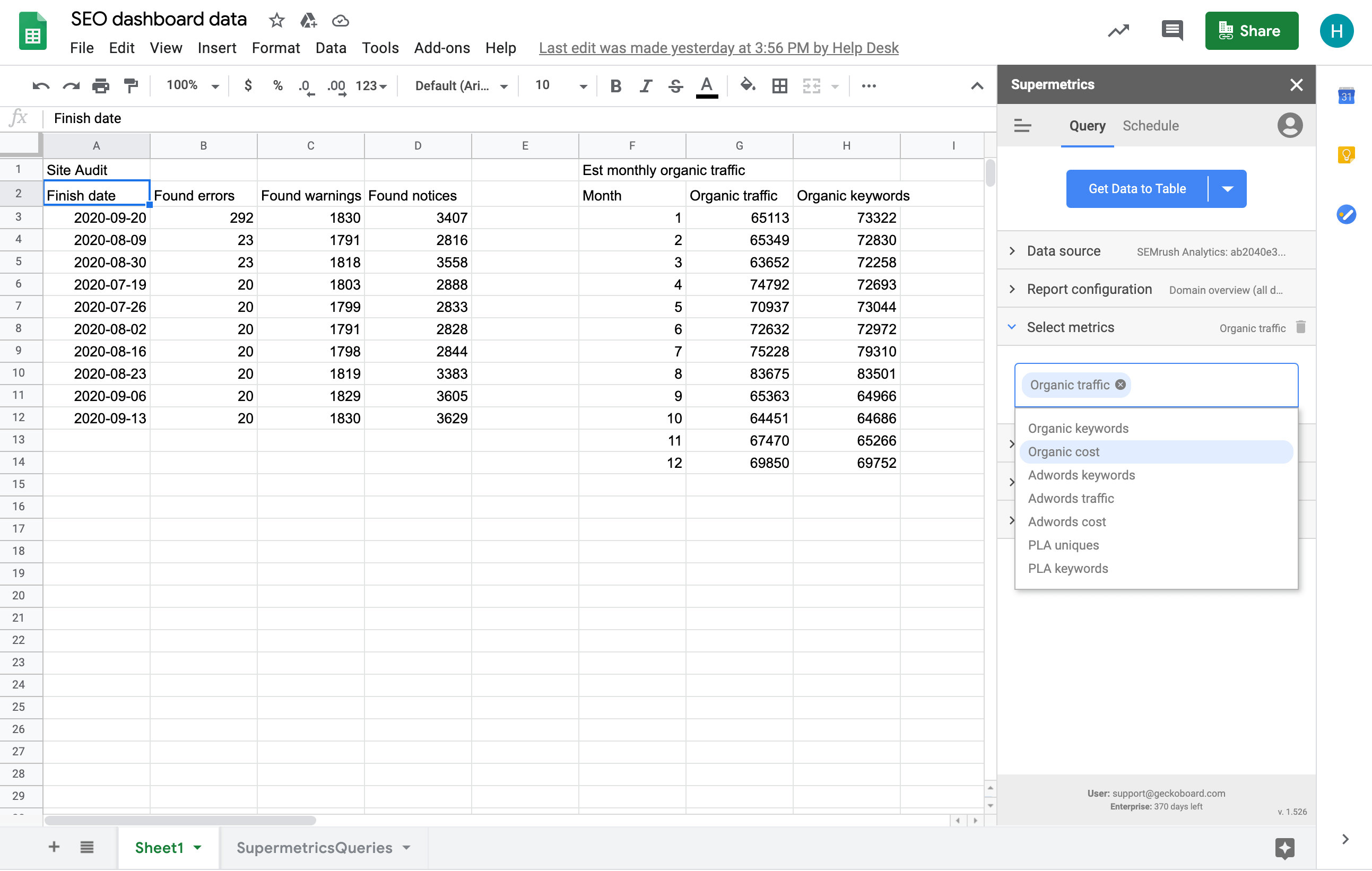 There are two main groups of information on this dashboard that allow me to quickly check how we're doing:
Site audits
In SEMrush I have a website audit scheduled to run every Sunday night. This automatically looks for technical or content errors that might impact our rankings, and scores the health of our website out of 100.
There's a lot of information in these audits, and there will always be some issues hidden away on a mature site like ours, so for me the most important thing to see is whether there have been any significant changes since the last audit. An increase in errors for example, as shown here, could indicate there's something wrong with a recent change to our template that needs fixing, or perhaps even one of our key pages is broken. Having the past week's errors, warnings, and notices, as well as our latest website score on the dashboards lets me quickly know if everything is as expected, or if I need to dig into our audit for more information.
Past month
It's important for us to see how many small changes can all roll up into big results. To make sure we're on track, our dashboard shows which keywords have improved over the past month. Again, this data is pulled into a Google Sheet from SEMrush using Supermetrics. I've also added a new users via organic search, which comes from Google Analytics, and includes a handy indicator to show how this has increased or decreased Vs the previous month.
Finally, I've also added the average page load time for our homepage over the past month in the bottom right. We're shipping quite a few changes to our homepage this quarter, and as we do so, I want to make sure we're maintaining (and ideally improving!) this important SEO factor, without having to constantly dig into Google Analytics.
We have a small marketing team, and we see SEO as our collective responsibility, rather than an individual's 'job'. Given organic search is an important channel for us, we're always looking for ways to make sure we're on top SEO, whilst working on other initiatives, SEMRush has been a really useful way to identify and prioritise our SEO work, but I found I was spending probably a bit too much time digging into our website audits every Monday - there's always more we could be doing!
So I looked into how we could use Geckoboard to boil down the information to just the stuff I need to see quickly once a week and only invest time in digging in to more detail if needed.
After looking into how to get SEMrush data into Geckoboard, Supermetrics' Google Sheets addon quickly became the obvious choice due to its support for a wide range of metrics, and its scheduling functionality.
This dashboard hasn't gone through many changes, as I already had a clear idea of what information I wanted to see on it. I have occasionally I change the page load time widget to focus on different pages or sections of our website if I know we'll be making significant changes to the content or template.
Centralizes key SEO metrics
Provides a straightforward view of how our website is performing from an SEO perspective
Lets me know if I need to dig into more detailed reports