Customer service dashboard example
What's this dashboard for?
Our Customer Service dashboard is displayed prominently in our workspace so the team have a live view of the service levels we're delivering across our channels. This helps us keep up our high standards and take action if we're slipping in a particular area.
The metrics on this dashboard are grouped by channel so we can easily focus on a particular area when we look up at the dashboard.
For both email and chat, we've visualized the best indicators of service quality we can think of: First Response Time, Resolution Time, and CSAT. These help us check that we're responding to customers in a timely fashion, solving problems quickly, and making customers feel that they're getting the level of service they expect.
When it comes to our help center, we needed to think beyond tickets, and had to determine what success looked like for our self-serve offering. Eventually we settled on four key areas we were keen to monitor:
How many users are using self-service? This is reflected by the number of unique visitors, tracked in Google Analytics
Are we helping users self-serve successfully? We have tags that we apply to our tickets in Zendesk Support that reflect whether documentation existed for a user's issue, or whether there was a gap. If there's a spike in 'documentation_exists', that's an indication that we need to improve the way that documentation is found
Are customers finding what they need when they perform a search? We track search refinements using Google Analytics
How is our support content performing? The measure of great self-service is how quickly users can read it and leave. We track 'average time after search' in Google analytics, as well as 'search exit rate' to get a feel for this
---
Give your support team a boost
With Geckoboard's real-time dashboards, everyone knows exactly what's happening in CS right now.
Find out more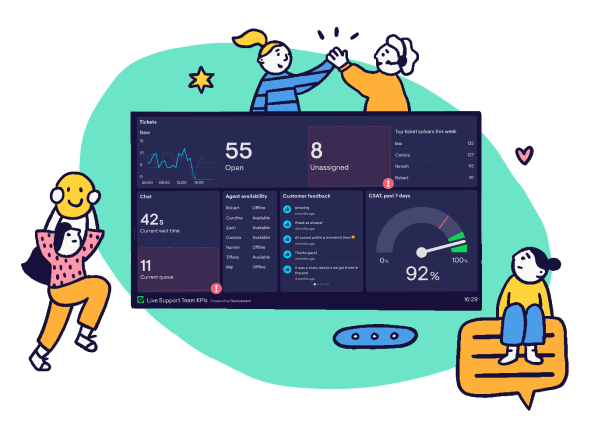 ---
We had several dashboards that each represented how well we were delivering support through various channels from an operational perspective. Over time though, we wanted to better understand whether the efforts were translating into better outcomes for customers, and to monitor this over time.
We created this dashboard in a morning so we can see how our most important customer service metrics fluctuate as a result of what's going on in each channel. And we can see this instantly without having to dig into a report.
The main improvements we've made to this dashboard have related to how we track the performance of our help center. It's taken some iteration for us to discover which health metrics are actionable as opposed to adding noise, and we've swapped various metrics over the past months to understand what's really useful.
Monitors key customer service metrics across multiple support channels
Help agents link their efforts to customer outcomes