Support team leaderboard dashboard example
What's this dashboard for?
This dashboard has live leaderboards that show how different teams and individuals are working towards monthly goals. We have a sweepstake going between our offices over which team can dominate all areas of our support, so it's a powerful way to spark a bit of friendly competition. It also improves transparency across all the teams about who's doing what, and reminds everyone of the goal we're all contributing to.
On our main Support KPI dashboard, we initially included a basic CSAT leaderboard, and the team really liked it but wanted to see a version with more detail. We didn't have the space on the original dashboard to incorporate the detail we wanted, so we decided to make a specific leaderboard dashboard.
The competition this dashboard has created has evolved quite organically. One month we had someone from the Auckland office dominating three of the leaderboards, but they were denied a clean sweep by someone in the London office. This kick-started a bit of rivalry between the teams, starting with a Slack conversation about how one team thought they could beat the other. Eventually everyone decided that if one of the offices could get a clean sweep of all the leaderboards, the losing teams would treat the winning office. It hasn't happened yet, but it's really motivating the team.
Also, before the dashboards, no one really knew anyone in the other offices, and the leaderboards gave everyone a way to make a name for themselves.
Geckoboard sparks a little bit of team competition but also improves transparency across all the teams into who is doing what.
On all our dashboards we have Calls Waiting, Agents Online, and the Unassigned list, all from Zendesk. These are our main indicators, and if we know we've got calls waiting, our team leads can organize cover. By displaying these metrics on all our dashboards (which are on a loop), we don't have to wait for our main dashboard to cycle back, so calls never get missed.
It's created healthy, no, ruthless competition, and we've seen our CSAT go up from around 70%, to 86% after only 6 months.
The bulk of this dashboard is dedicated to several leaderboards that show how individual agents are contributing to metrics we're looking to impact. This comes from a Google sheet that I use as a 'bridge' to bring data in from external sources like Delighted (our main source for CSAT data). We've set up Zapier to pull in the raw data, and have written some scripts and applied various filters in the Google sheet to reformat that data into a leaderboard.
Once I knew I could push whatever I wanted through Google Sheets, it was then just a case of figuring out how to get that data into the Google sheet. And as we got to know Geckoboard, we realized it was a lot more capable than we'd first expected.
---
Give your support team a boost
With Geckoboard's real-time dashboards, everyone knows exactly what's happening in CS right now.
Find out more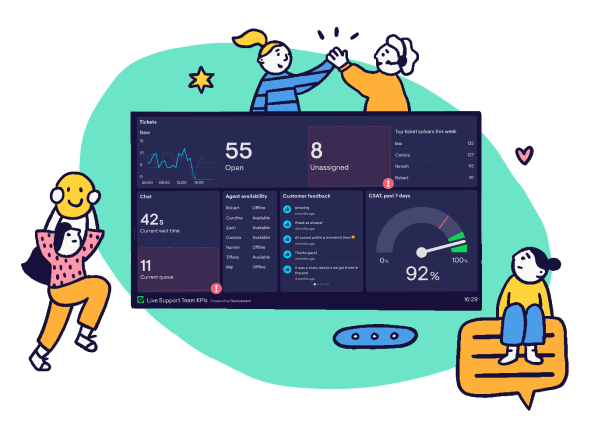 ---
Sparks friendly competition between distributed teams
Shows everyone is contributing to the same goals
Helps individuals make a name for themselves