Data dashboards people actually look at
Easily share your key data, metrics and KPIs in a clear, compelling way.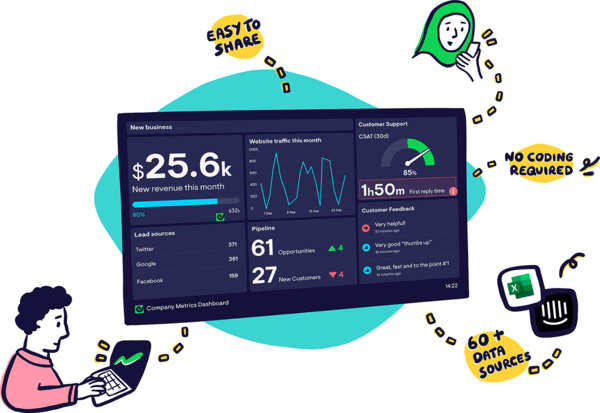 Make business data easy to understand

You've got data - now it's time to share it with others. Geckoboard helps you streamline data from spreadsheets, databases and other software, and present it in the clearest possible way.

Surface real-time metrics

Help your team understand and improve their performance by making real-time metrics easy to see throughout the day. With over 60 integrations, it's easy to create live dashboards that help your team see the impact of their work instantly and course-correct independently.

Bring KPIs together

Keep everyone in your organisation up to speed with what's going on across the business and show progress towards high-level objectives, with an unmissable summary of key performance indicators and company goals.
At a glance, everyone in our organization can instantly see how we're doing. And it looks fantastic – large, easy to read, and intuitive!
You'll be up and running in minutes
Build and share great looking dashboards, without the hassle

60+ data sources

Pre-built integrations make visualising data from business tools effortless.

Quick sharing links

Easily share dashboards with team mates in through email, chat, documents, or bookmark them in your browser for quick access.

Send to TV

Display your dashboards on large screens in your workspace using affordable hardware for maximum visibility

Send to Slack

Schedule automatic snapshots of your dashboards to post to Slack to ensure important KPIs and goals are never missed.
Popular use cases
There's no 'one dashboard fits all' with Geckoboard. Our KPI dashboard software makes it really easy to tailor dashboards for your team.