Average Handle Time (AHT)
What is First Response Time?
Average Handle Time (AHT) measures the average length of time an agent spends on each call or ticket they open. Typically used in call centers to determine the average length of contact for a customer on a call, it can also be used to measure chat and email queues as well.
Though similar to Average Resolution Time, in that they both measure the time it takes to resolve a customer's issue, AHT doesn't include the time a customer spends in queue or the regular "pending" intervals that you get on tickets. It only measures the time an agent works on the call itself, which includes average talk time, average hold time, and total follow-up time.
What does Average Handle Time Tell You?
Average Handle Time is commonly used to assess the efficiency of call center agents and the customer service organization as a whole. It can be an effective metric for establishing benchmarks that the call center can build from or creating customer service goals to strive for.
Depending on a company's approach to the customer experience and the products/services they offer, AHT is typically used to help reduce the time customers spend on hold, increase the numbers of calls handled by agents, and to improve customer satisfaction. It's also used to help optimize call times, but it's a careful balance between a lower AHT, where agents feel pressured to hurry customers off the phone and a higher AHT, where agents aren't moving conversations on quickly enough. The reality is there's no shortcut to fulfilling a customer's needs. Your AHT should be enough for customers to get the appropriate support they need balanced with what your support team is capable of, both in terms of skills and coverage.
If you need to reduce your average handle time you might consider improving your help documentation, particularly your internal knowledge base. Here you can tailor the content to help them troubleshoot during a call.
How to calculate Average Handle Time?
(Total call time + total hold time + follow up time) / No. Calls = Average Handle Time
You can calculate your Average Handle Time by adding together the total time spent on calls, the time customers spent on hold and the time spent following-up with customers and dividing that total with the number of calls in that same time period. Follow-up time totals up the time it takes to get back to a customer if the case is not resolved on the initial call, even if that takes multiple calls.
For organizations who offer email and chat support options alongside phone, there's no hold times for calculating your AHT for email and chat.
Give your support team a boost
With Geckoboard's real-time dashboards, everyone knows exactly what's happening in CS right now.
Find out more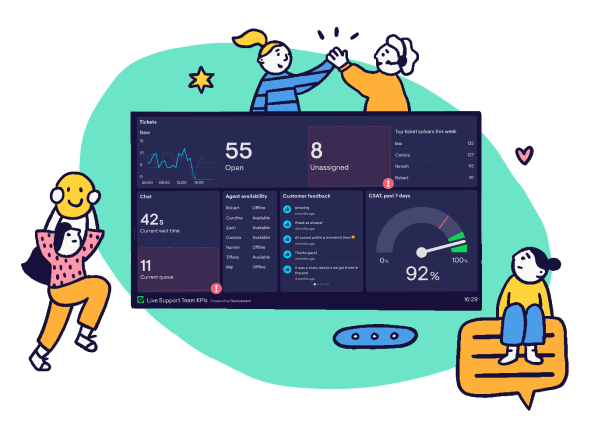 Should you track Average Handle Time?
Average Handle Time is a useful metric to understand how long agents, on average, spend on each call or ticket they open. For larger support teams spanning different response channels AHT can help measure your agents' productivity and output, which can then inform future staffing and coverage requirements.
For phone support in particular, AHT enables you to optimize your customer calls so that you find that sweet spot between rushing and pondering through calls. The duration of a call, coupled with how effective it was from the customer's perspective can have a big influence on your Customer Satisfaction (CSAT) score.
When agents are capable of delivering flexible, supportive conversations that avoid unnecessary distractions and tangents this can lead to low AHT and better customer experiences.