Conversations Per Teammate
What is Conversations Per Teammate?
Conversations Per Teammate track the number of customer interactions every support team member has. This is most often tracked on a daily basis (i.e. Conversations Per Teammate Per Day).
Advice from Customer Support Experts
"At Intercom, we track the number of conversations that each teammate handles (more traditional customer support operations would call them cases). It's a great way of showing when and where the team is being overworked and needs backup." - Jeff Gardner, Director of Customer Support, Intercom
How to calculate Conversations Per Teammate
[ Sum of (#) conversation by specific teammate ] = (#) Conversations Per Teammate
Conversations Per Teammate is calculated by simply tracking the number of conversations each teammate handles. While you can calculate the total manually, customer support software will usually track this for you.
This metric can be calculated and tracked on a daily (most common), weekly, or monthly basis.
Pros:
Conversations Per Teammate helps you track the bandwidth of your team and highlights when team members need backup. It's also helpful for understanding how the workload is being divided up.
Cons:
Not all conversations are equal, so Conversations Per Teammate might be misleading if one team member spends most of their day working on just a handful of really challenging responses while others handle a higher number of easier conversations.
Also, conversations aren't just about quantity. The quality of each conversation - usually measured by Customer Satisfaction - is equally important, if not more so. Be wary of putting too much focus on this metric at the expense of providing remarkable support to your customers.
Give your support team a boost
With Geckoboard's real-time dashboards, everyone knows exactly what's happening in CS right now.
Find out more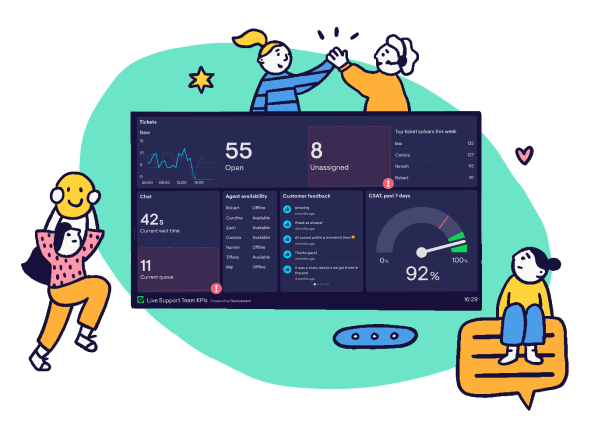 Relevant Customer Support Metrics and KPIs:
If you're adding Conversations Per Teammate to your support dashboard, you might want to also consider tracking these related customer support metrics for context.
Industry Benchmarks
Conversations Per Teammate will be unique to your team and how you handle your ticket queue. For example, if you stagger the hours of your global support team to provide 24/7 support, some team members will likely answer more tickets than others depending on the time of day and the location of your customers.
If you want to estimate a per-day benchmark for your team, divide the total average number of conversations per week by the number of team members you have. Then divide it by either 5 or 7 depending on when you offer support (business days only or 7/days/week). This gives you a starting number that you can discuss and tweak as the workload changes.
For example, if you average a total of 600 conversations per week, offer support 5 days a week, and have 4 team members, your daily benchmark would be 30 conversations per day.
( 600 conversations / 5 working days ) / 4 teammates = 30 Conversations Per Teammate Per Day