Cost Per Acquisition (CPA)
What is Cost Per Acquisition?
The marketing metric Cost Per Acquisition is the total cost of acquiring a new customer via a specific channel or campaign. While this can be applied as broadly or narrowly as you want, it's often used in reference to media spend. In contrast to cost per conversion or cost per impression, CPA focuses on the cost for the complete journey from first contact to customer.
Cost Per Acquisition is also differentiated from Customer Acquisition Cost (CAC) by its granular application - looking at specific channels or campaigns instead of an average cost for acquiring customers across all channels and headcount.
How to calculate Cost Per Acquisition:
Channel or Campaign CPA Calculation:
($) total spent to acquire new customers via specific channel or campaign / (#) new customers acquired via the same channel or campaign = ($) Cost Per Acquisition
Media Spend Calculation:
($) total media spend / (#) new customers acquired via media = ($) Cost Per Acquisition
To calculate the cost per acquisition, simply divide the total cost (whether media spend in total or specific channel/campaign to acquire customers) by the number of new customers acquired from the same channel/campaign.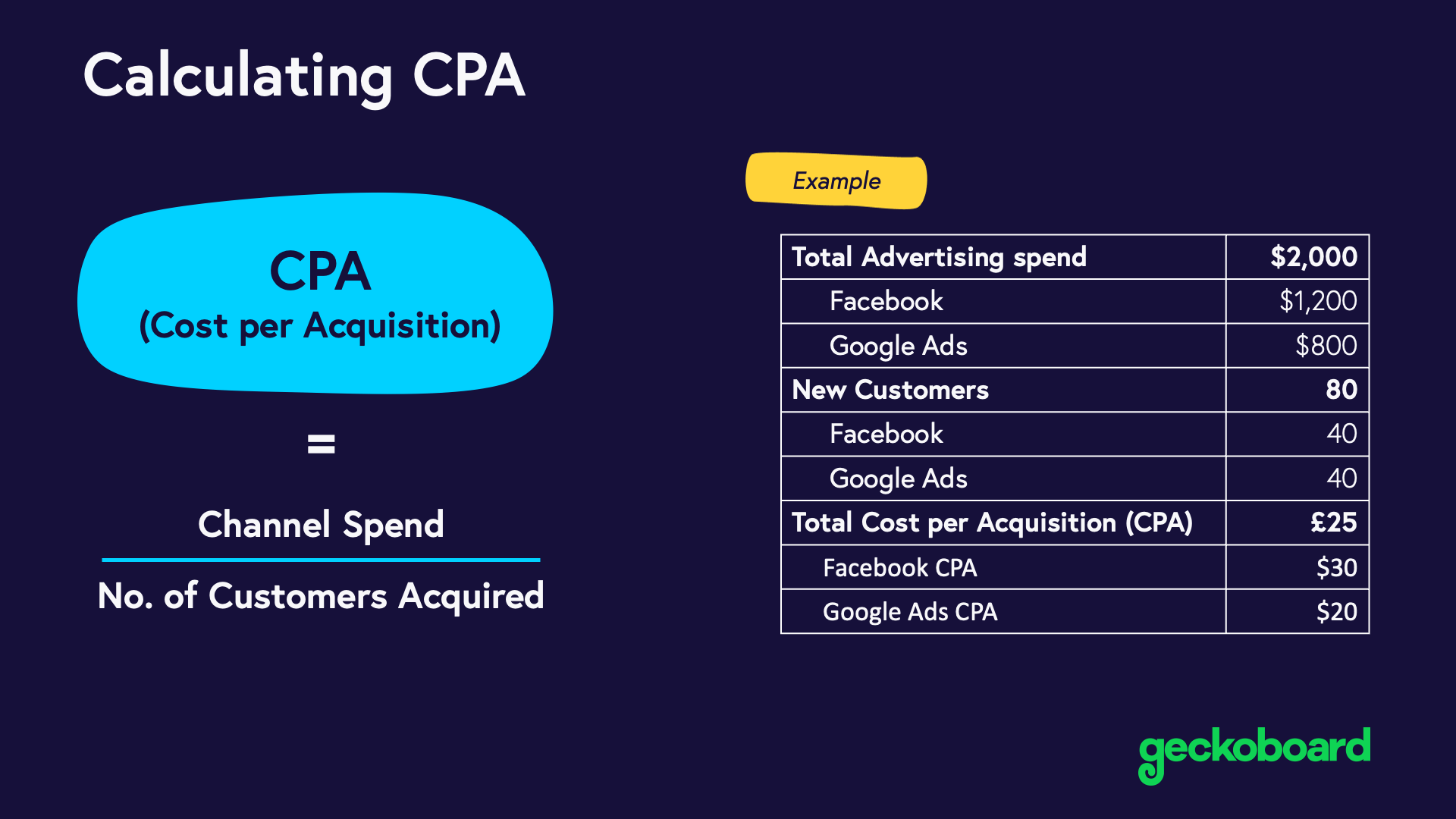 Pros:
If one of your primary acquisition channels is media, then calculating CPA is helpful in determining the effectiveness of your campaigns. The lower your CPA in relation to your LTV, the higher your profit will be.
Cost Per Acquisition is a KPI that measures the success of various paid marketing channels such as PPC (pay per click), affiliate, display, social media, and content marketing. It can also measure channels that have more indirect costs (e.g. salary, etc.) such as SEO, email, or other platforms.
Cons:
Since CPA is a more granular metric, it's important to also track other more holistic metrics (Marketing ROI, LTV, Website Conversion Rate, etc.) to gain an accurate picture of all your marketing efforts in relation to the revenue they're generating.
Relevant Marketing Metrics and KPIs:
If you're adding Cost Per Acquisition to your marketing dashboard, you might want to also consider tracking these related marketing metrics for context.
Industry Benchmarks
CPA benchmarks vary by industry and channel, but the average CPA for pay per click (PPC) search (across industries) is $59.18 while display (across industries) is just slightly higher at $60.76. For a more detailed list of benchmarks by industry, see this infographic.
The best way to determine if your CPA is below, above or just average is to compare it with an internal benchmark - your LTV (customer lifetime value).
Direct media benchmarks can be found here.
| Type/Channel | Estimated CPA Benchmark |
| --- | --- |
| PPC Search (across industries) | $59.18 |
| PPC Display (across industries) | $60.76 |
Additional Notes:
Having a really low CPA isn't necessarily a good thing. It may mean that you're not investing quickly enough to grow. It's worth setting a CPA target in the context of your LTV:CAC ratio so you hit a CPA that is low enough that you're growing profitably but not so low that you're not growing quickly enough.