Knowledge Base Views
What is Knowledge Base Views?
Knowledge base views measures the volume of views you get on your support center or help center pages on your website. Most businesses have a knowledge base page to help customers answer the most common questions about their service on their own.
How to calculate Knowledge Base Views
You can use either Google Analytics or Mixpanel to track traffic on this page.
Give your support team a boost
With Geckoboard's real-time dashboards, everyone knows exactly what's happening in CS right now.
Find out more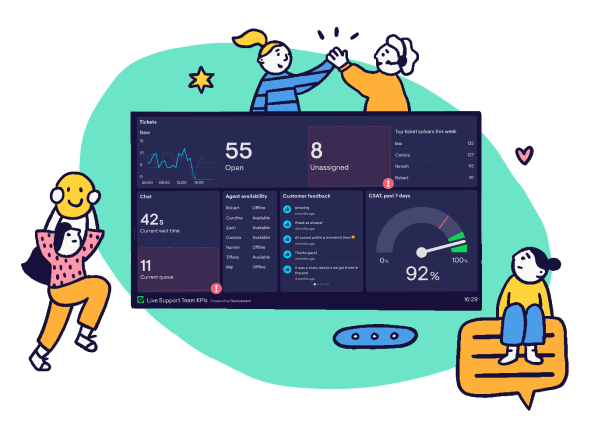 Pros:
Setting up and monitoring a knowledge base page will not only give your users autonomy in solving their own problems, but it will also give you an indication of what are the most common issues they are facing. This presents an opportunity to improve certain features or work on the user experience to make sure customers are satisfied with your product.
Cons:
If your knowledge base gets thousands of hits per month, look to the articles with views in the single and low double digits first. Consider eliminating very low-volume articles that take substantial time to keep updated. You'd be surprised how many customers and reps won't complain, and how much extra time you'll save on editing and updating those articles.