It's tough to keep any sales team motivated, but it's especially difficult for remote teams. Reps can't thrive off each other's energy or engage in friendly competition, so you need an alternative for keeping everyone focused on your targets.
A sales dashboard gives you an overview of your team's performance and keeps everyone motivated by showing progress toward your targets – even if you're not all in the same office. At the same time, it encourages competition as your reps look to outperform one another to reach the top of the sales leaderboard.
We've put together seven sales dashboard examples to inspire you as you build your own. For each example, we explain:
Who it's designed for
The purpose of the dashboard
Some key performance indicators (KPIs) and sales metrics to include
Choose one (or more) dashboard that best aligns with your needs – and the needs of your sales team.
1. Sales management dashboard
A sales management dashboard gives sales managers a high-level overview of their whole team's performance. It should show the top-level metrics that are most important for sales leaders, focusing on revenue and pipeline to help you understand how your team's performing.

Example of a sales management dashboard in Geckoboard showing top-level metrics that are most important for sales leaders
Who uses it
Sales leadership, including sales managers and head of sales teams. This dashboard is for sales team leaders rather than individual sales reps.
Example metrics
These metrics should focus on your top-level sales goals and give sales managers an overview of their whole team. Here are three metrics you might include:
Sales against target – the image above shows several KPIs and data visualizations, including sales against target. See if your team's on track to hit their monthly or quarterly targets at a glance. If they're falling behind where they need to be, you know early and can work to get them back on track
Value of opportunities in pipeline – use this metric to predict future deals that will close in the coming weeks. Your team may be behind target right now but have a strong pipeline that will help you eventually meet your target revenue
Close rate by rep – this metric shows you the proportion of deals your sales reps have closed in a certain time period, giving you an overview of your reps' performance without going into too much detail. At a glance, you can see if one of your reps is having a standout month or if someone's struggling and may need some extra support
2. Sales team KPI dashboard
A sales KPI dashboard shows key metrics relating to their high-level goals – typically focusing on revenue and building pipeline – so the whole team can see how they're collectively performing against the target. While the previous example was for sales managers and team leaders, this one is for your whole team to refer to.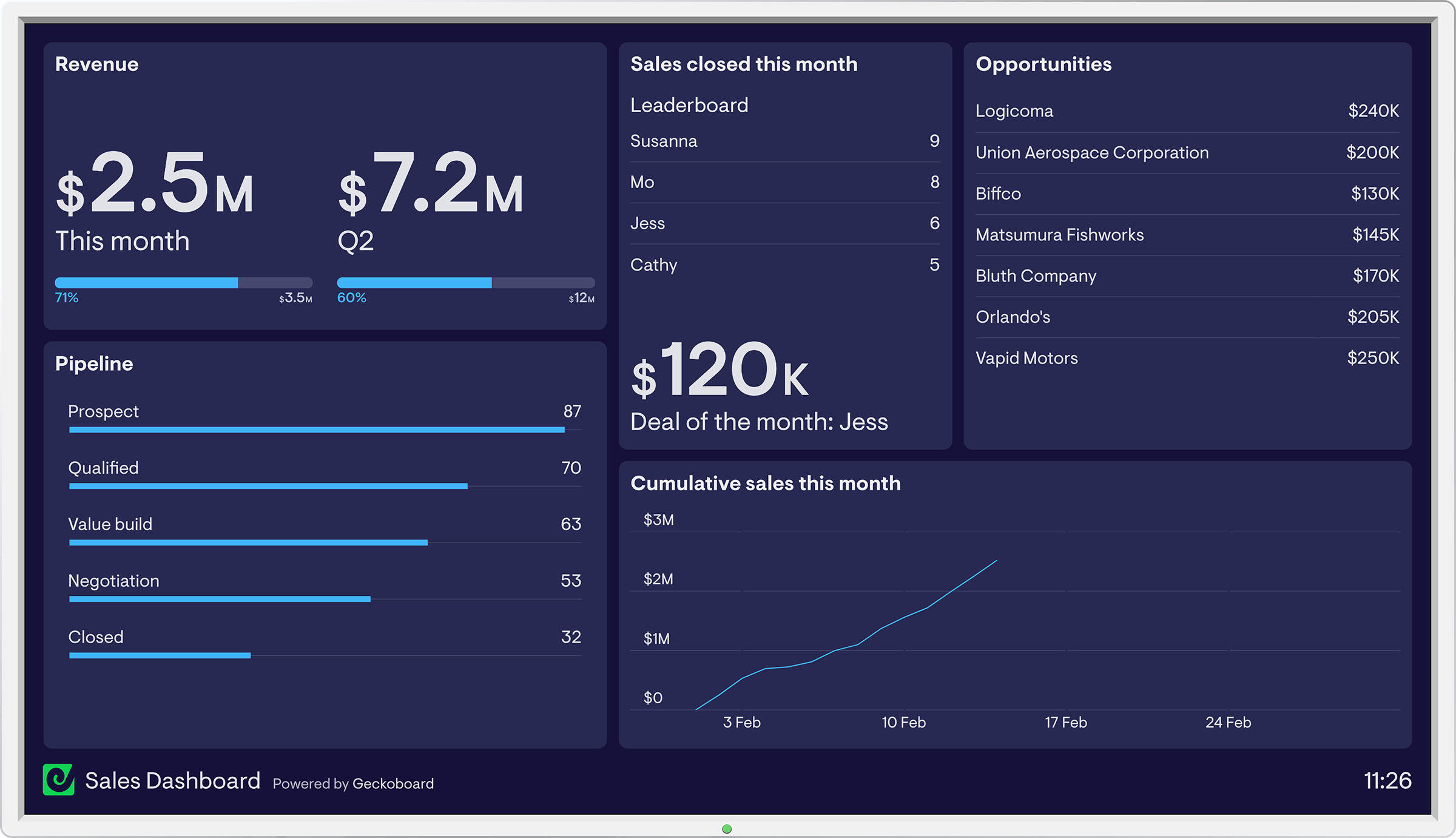 Example sales KPI dashboard in Geckoboard showing key metrics for your whole sales team
Who uses it
This dashboard is for the entire sales team – from your newest sales development rep (SDR) up to your vice president of sales. As the whole team can see the dashboard, it helps them motivate and support each other, even if you're all working remotely.
Example metrics
These metrics should focus on team performance rather than individual performance. These could include:
Revenue against target – make it easy for your sales team to see how they're performing against their revenue targets. Everyone will be able to see the team's target for the month or quarter and how their performance contributes to that goal
Sales pipeline – your sales team needs to know their pipeline metrics and how leads in your pipeline convert down the funnel. Show how many leads you've got at each stage so your team can see which areas they need to focus on to close those deals
Monthly sales leaderboard – build a bit of friendly competition between your sales reps by showing who's closed the most deals this month. In a remote environment, it's hard to see how your peers are performing, but this dashboard could nudge your reps to up their game
3. Sales performance dashboard
A sales performance dashboard is another example of a dashboard for your whole sales team. It looks at your team's current progress compared with past performance, so you can spot whether your team's improving or if a change in the sales process has led to a drop in performance. It's an alternative to the previous example, in case you track different metrics or are focused on improving in different areas than the KPI dashboard.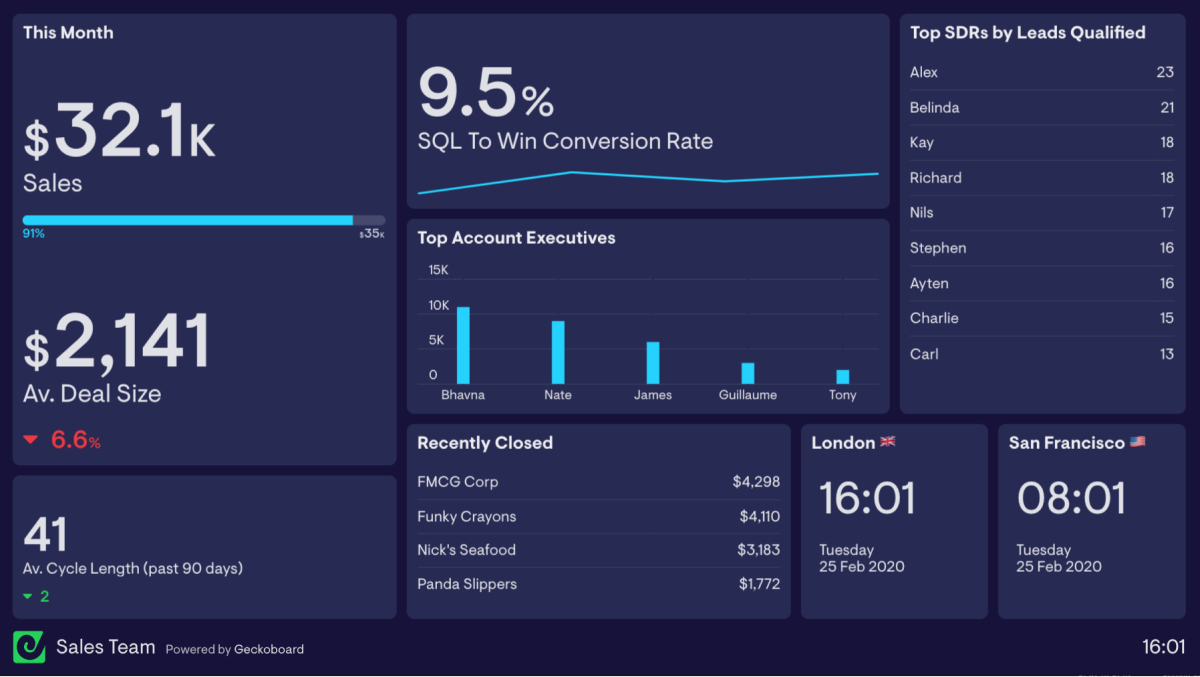 Example sales performance dashboard in Geckoboard to help your team track their performance
Who uses it
This dashboard is for your whole sales department, from individual team members up to team leads.
Example metrics
The most interesting metrics to include will help your team compare their current performance against past benchmarks and motivate them to do better than last month or quarter. Example metrics include:
Average deal size – if your average deal size is getting smaller, your sales team will need to close more deals to bring in the same amount of revenue. It may also suggest a pipeline problem, so you may want to catch up with your SDRs to check they're correctly qualifying leads they put through to your account executives
Average sales cycle length – this metric helps with your sales forecasts as you can see how long it takes to close a sale. Make it easy for your whole team to see how your sales cycle length changes over time, so they can spot opportunities to speed things up and streamline your sales process
SQL conversion rate – this metric helps your team understand the quality of sales qualified leads coming through your funnel. A sudden drop in conversion rate suggests that your SDRs need to reconsider their qualification criteria, as leads aren't turning into customers
4. Sales leaderboard dashboard
A sales leaderboard encourages healthy competition between your sales reps by showing a weekly or monthly sales leaderboard. This leaderboard could be an informal competition for team bragging rights. Alternatively, some companies offer incentives to their top salespeople, such as President's Club programs or bonuses. A visual leaderboard is a great way to get your reps excited about these initiatives and hit their targets.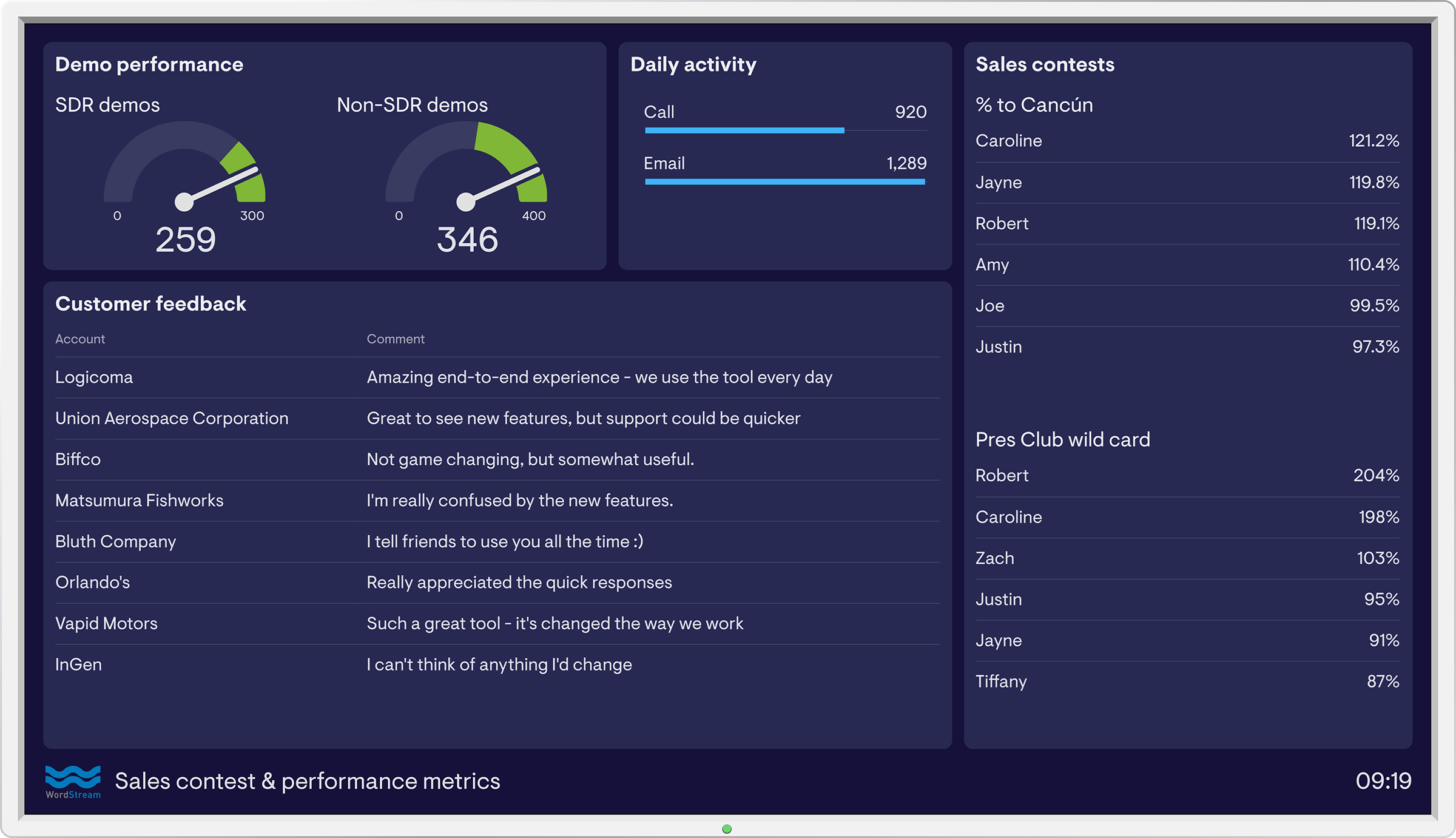 Example sales leaderboard dashboard in Geckoboard. Contains sample data
Who uses it
SDRs, outbound sales teams, or account executives to see how their performance compares to the rest of their team – and their standing on the leaderboard.
Example metrics
In a leaderboard dashboard, you want to show the metrics that affect a team member's standing against one another. The example above shows a leaderboard for SDRs, so it focuses on the number of demos completed and daily activity levels. But you could also have a leaderboard for account executives, focusing on the number of deals won or revenue closed. Example metrics include:
SDR daily activity - encourage reps to keep their output high by showing daily activity per rep. You could show this metric for the team as a whole or break it out by rep to further encourage healthy competition
SDR performance against target – whether that target is an incentive or just their quarterly goal, find a way to show how all your reps are performing against their targets and see who gets there first
Demos completed against target – demos completed will be one of the key measures of success for your SDR team. Visualize team or individual progress toward that target to keep teams motivated and show how their contribution moves the needle
5. SDR team dashboard
This dashboard example is for your SDR team (sometimes called business development reps [BDR] or outbound sales team) rather than your whole sales department and shows the KPIs and metrics that are most relevant to them.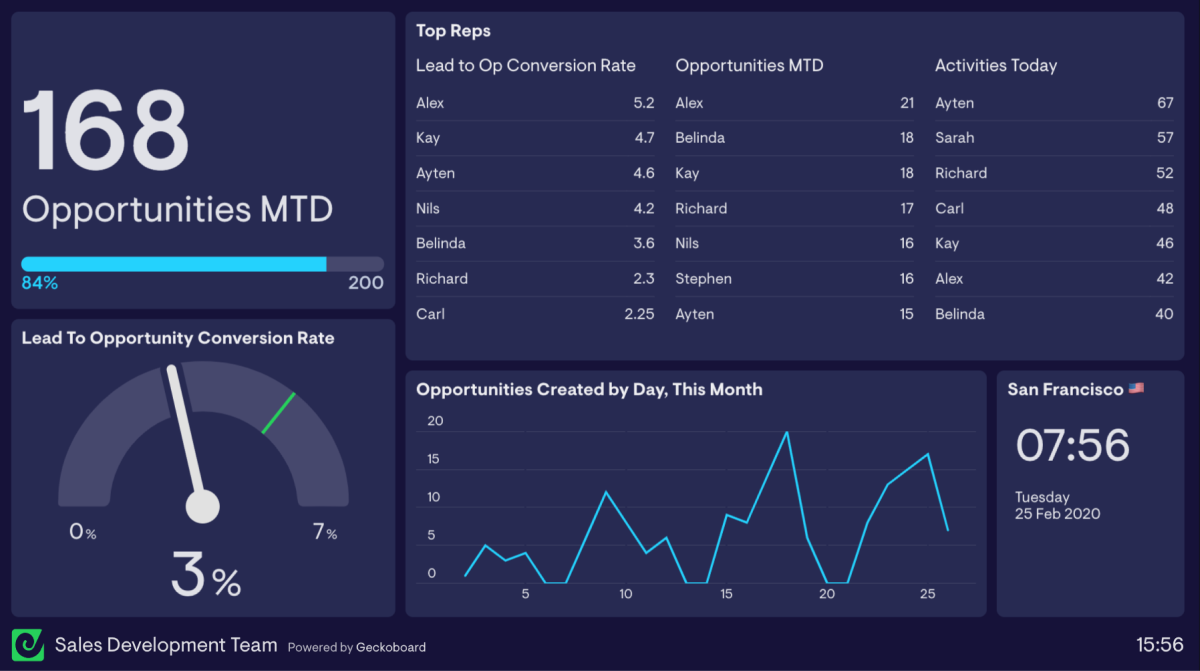 Example sales development rep team dashboard in Geckoboard
Who uses it
Your SDR, BDR, or outbound sales team. Team leaders can also use this dashboard to monitor the team's performance against targets.
Example metrics
You want to show the metrics that matter most to your SDR team, such as:
Opportunities created – the most important metric for your SDR team is likely to be the number of opportunities they've created for your account executives. You can show this metric over time or break it down per rep to show how each team member performs against their peers
SDR daily activity – keep your SDR team motivated by showing the number of sales activities (calls, emails, meetings booked) they've each completed today
Lead to opportunity conversion rate – visualize their current conversion rate to encourage them to nurture and follow up with top-quality leads
6. SDR dashboard (individual)
This dashboard allows individual SDRs to visualize their performance against their targets and past performance. It gives real-time updates on how all their personal sales activities contribute to their bigger targets to keep them motivated.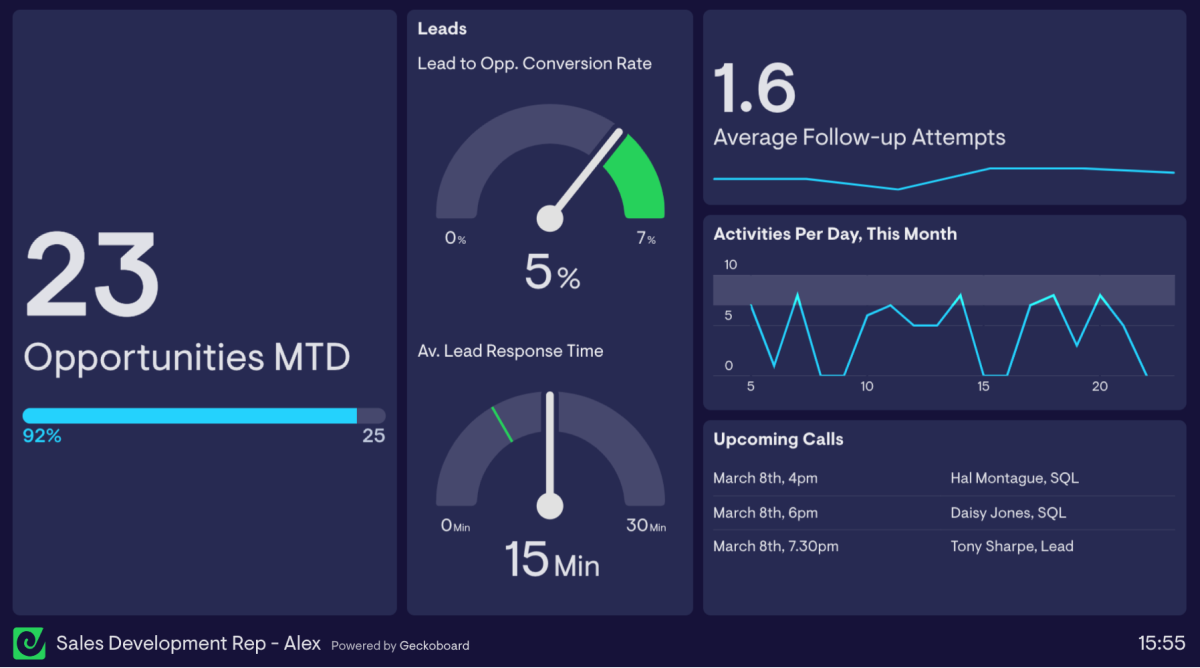 Example of a personal dashboard for a sales development rep in Geckoboard
Who uses it
Individual SDRs and their managers.
Example metrics
SDRs can use this personal dashboard to keep track of their KPIs and individual targets. These metrics are likely to be a good fit for most SDRs:
Opportunities created against target – this will likely be their most important KPI. Make it easy to track their progress toward their target to boost motivation (and make it obvious when they need to ask for some extra support)
Lead response time – fast response times are essential for keeping leads warm and the conversation moving. Help reps see their average response time against their target, so they can make improvements if necessary
Average follow-up attempts – persistence is key for SDRs. If they don't get through to a lead the first time, they need to try again across different channels
7. Account manager dashboard (individual)
Some companies include account managers within their sales department, as they play an important role in building relationships with customers. Account managers are most likely to sit within the sales department (rather than customer success) if they have revenue targets for upsells and retention. This dashboard allows individual account managers to visualize their progress against their targets.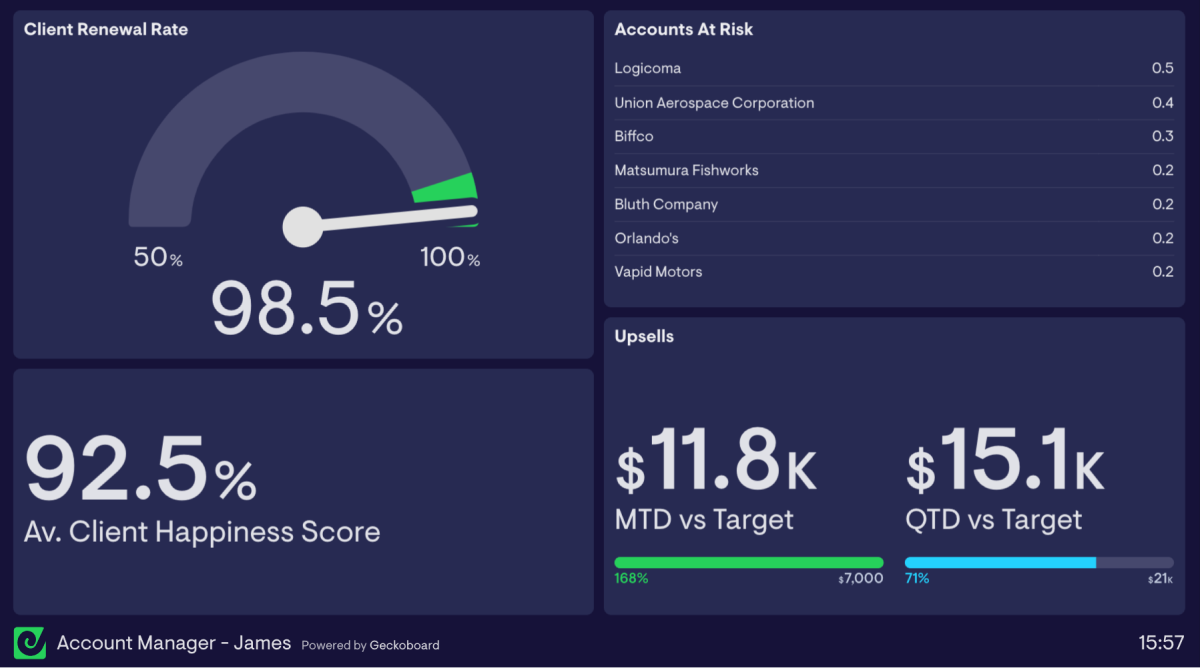 Example of a personal dashboard for account managers in Geckoboard
Who uses it
Account managers and their team leads.
Example metrics
As account managers focus on customer relationships and retention rather than acquisition, this dashboard mixes customer success and revenue-focused KPIs. Some example metrics include:
Customer renewal rate – visualizing this KPI keeps account managers motivated to provide the best experience for their accounts and keep customers happy and engaged
Upsell revenue against target – account managers will have targets for upsell revenue tailored to the number of clients they manage. Tracking this on their dashboard will help your account managers monitor their progress toward their target
Client happiness score – with an at-a-glance view of customer happiness levels, account managers can see when satisfaction levels drop and reach out to their customers to offer support. This is likely to be your Customer Satisfaction (CSAT) score to measure customer happiness over time
Create dashboards your sales team will use every day
Sales dashboards are a great way to keep your sales team motivated and working toward their targets – but only if those dashboards are easy to understand and update. A dashboard that's full of confusing data visualizations or crammed with all your sales metrics will be difficult to read, and your sales team will ignore it rather than use it as a valuable source of information. Download our dashboard design guide to learn how to create effective dashboards that your sales teams will refer to daily.