Global support dashboard example
What's this dashboard for?
At Vend we have a team of around 65 agents, split across offices in Auckland, Toronto and London, who support customers of our retail point-of-sale system. Our customers are scattered around the globe, with most of them in APAC and AMER, so we've adopted a 'follow the sun' model so we can give customers timely support.
As our global support team grew, we realized that as an agent, you know what you're doing, but you don't necessarily know what's going on in other offices' support teams — or even in your own team. We wanted a way for agents to see their contribution, how it interacts with the rest of our support operation, and how it contributes to wider company goals.
This is our main dashboard that helps with that. At a glance it gives a holistic overview of our current month's performance but also the intra-day breakdown. We've got it on a loop with several other dashboards, on a 2 minute cycle.
In the past year, our global Support team grew 40% so what was previously an easy handover on Slack was no longer cutting it. We wanted to give our global teams the context and transparency of our stats for the current day and how we're tracking against our monthly KPIs. Before Geckoboard, we would update the teams on our KPIs at the end of the month, which created a disconnect throughout the month.
As our team grew, so did our channel offering. We now have three different channels — phone, web, and chat — and each team member is assigned a different channel throughout the day. As we use Intercom and Zendesk for our support channels, we never had a centralized place to tell us where everyone was at a particular point in the day. With Geckoboard, we can see at a glance who is online across our real-time channels.
So, the main reason for making this dashboard was to create visibility across the entire team. We wanted everyone to see their contribution, and how it interacts with the rest of the company.
When we started giving agents a little bit more visibility on the bigger picture, everyone started craving more.
The aim of this dashboard is to give a high-level overview, so we can see at a glance where we're up to on a monthly basis, but also on an intra-day basis. The metrics on here are as follows:
CSAT for the current month, pulled from Delighted
Tickets Created, from Zendesk
Tickets Solved, also from Zendesk
First Response Time from Zendesk
First Response Time from Intercom, which powers our in-app chat
Answer Rate from Zendesk Talk
Solved With Links. We do KCS (Knowledge Centered Service) so for every ticket we get, we should in theory have a Help Center article for it. If we don't, all our agents have the ability to create those articles. We're constantly contributing to the Help Center to make sure that there's never really an issue we haven't got documentation for. And, in the process, we've seen a rapid growth in the number of articles we have from around 400 to 3,000. This metric shows how many issues we're now able to solve with this collection of documentation we've been producing
Call Status. Agents love this! When you have, say, 25 agents all in one of our offices at the same time, it's great to be able to see who's actually on a call. It lets team leads check, at a glance, how everyone is doing, and whether we have sufficient coverage as one office finishes up for the day and hands over to another
Calls Waiting and Callbacks. These come from Zendesk Talk, and they're set up to turn red every time the count is above 2, to give agents a visual signal to jump online
The remaining metrics are our headline stats for the current day, across all our channels: talk, phone, tickets and chat.
Global timezones. To the right we have global timezones for our offices in New Zealand, London and Toronto, so we can easily see what stage in the working day each office is at
---
Give your support team a boost
With Geckoboard's real-time dashboards, everyone knows exactly what's happening in CS right now.
Find out more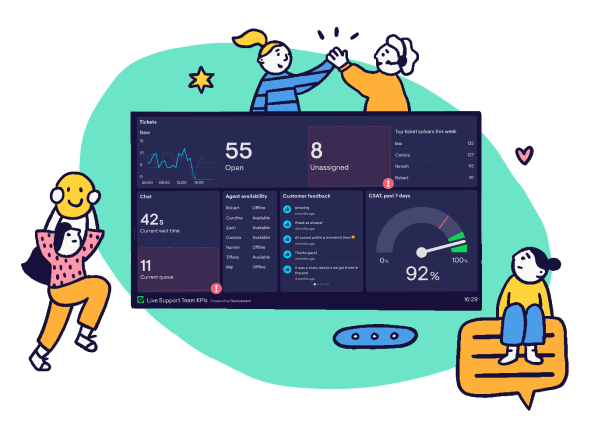 ---
When I first built this dashboard, we probably got a little trigger-happy, and added anything and everything. I thought "everyone wants all the information, so let's give them all the information!". Then we quickly realised it was just too much information, and people weren't going there because it was a sea of numbers.
So we stripped it back and removed a lot of the unnecessary data on there. The aim now is to only show the information the team actually needs to know. Anything that's not really relevant has been removed.
Improves transparency and visibility of KPIs across all global teams
Minimizes gaps in coverage between handovers
Shows progress when rolling out CSAT and KCS