Live chat dashboard example
What's this dashboard for?
This dashboard gives us a real-time overview of one of our most important support channels: live chat. The team can see at a glance how busy chat is at that time, and how well we're meeting demand. If we have everything under control, then we tend to switch our attention to other channels or longer term projects. But if the dashboard highlights an influx of chats and we're struggling to meet our First Response Time targets, we can quickly switch agents to ensure we're maintaining our standards.
A less tangible, but very important use for this dashboard, is to show the wider company how hard the team works at addressing our customers' questions and problems. It's a great morale boost when we get compliments from other teams!
This dashboard tells us instantly how busy our live chat is, and whether we have enough agents online to meet demand. It also gives us a rough idea of how our levels of service have been throughout the week.
All the metrics on this dashboard are pulled from our Zendesk account. The ones we look at frequently throughout the day are Current Chat Queue and Current Wait Time. We've also added warnings to our visualizations that turn red if there's a spike in chats, so we can take action immediately. Next to that is the number of agents we have online, to give us a ballpark of whether we're serving customers in an efficient way.
Alongside these real-time metrics, we have some health metrics. These help the team understand our need to stay on top of First Response Times, and to make sure we're maintaining our targets for CSAT.
---
Give your support team a boost
With Geckoboard's real-time dashboards, everyone knows exactly what's happening in CS right now.
Find out more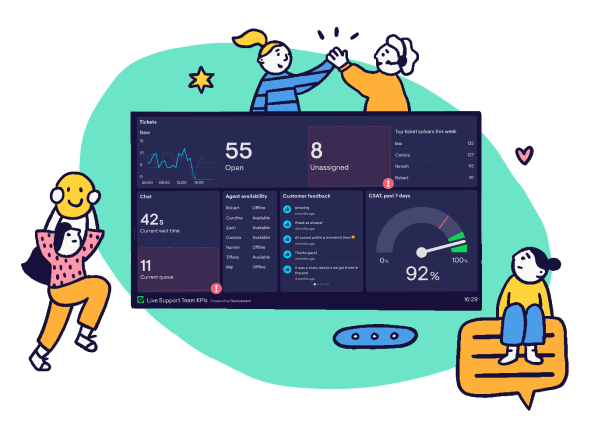 ---
We have a relatively small support team, and when we brought live chat online we wanted to introduce it to their day with minimal disruption. We wanted a quick way to check if any chats needed attention, so one of the team could quickly jump in whilst answering email tickets. To do this, we initially added a Chat Queue metric to our email support dashboard. But we quickly realized it made sense to have a dedicated dashboard with extra support metrics — and that's how this dashboard came about.
We started out by displaying the current Chat Queue, which remains the most important metric on here. Shortly after, we reflected on why we cared about answering chats quickly, and the answer was obviously that we wanted to offer a great customer experience. To make sure the team never loses sight of this, we added First Response Time, Current Wait Time, and CSAT. Finally, we tried adding a feed of user feedback from our chats with customers, but we found it wasn't adding anything useful to this specific dashboard. So, we moved the feed to our support overview dashboard to keep this one focused on critical metrics.
Lets you monitor live chat volume in real time
Helps you maintain high standards of support over time
Ensures agents are working on the right channels at the right time