Real-time customer support dashboard example
What's this dashboard for?
At JustPark we help nearly 3 million drivers a week make their search for parking easier, and on the support team, which I manage, we use Geckoboard 24/7 to get visibility on what's going on throughout the day.
We have two main dashboards in our department which we display on a TV, in a loop, using Raspberry Pis. It's so easy – you just load up a url and your dashboards are there.
We also have a dashboard that covers more in-depth metrics on how we're performing. But the dashboard above is designed to give our 25 agents in the office (and a handful offshore) a high-level overview of what's going on in real time, across all our support channels. Plus, for me as a manager, it lets me see how everyone is doing, especially in times of crisis. When there's something that could affect our service, we can see it unfolding in real time and react appropriately.
It doesn't take me any time to maintain, and I don't have to worry about anything.
All the metrics on this dashboard come from Zendesk Support, Chat, and Talk. As managers, we can decide which metrics from Zendesk to show the team to encourage them to work on certain areas. And we've found that many of our KPIs have improved simply because we've had them up on a screen.
On this dashboard, we've devoted almost a third of the "real estate" to customer satisfaction metrics – which we're really passionate about getting right.
In addition to this I've added a feed of customer feedback. It's nice to see what customers are saying about us in real time, especially if they're mentioning specific agents' names. We display a mix of positive and negative feedback, and whilst it's great when people from other departments pass by and see praise for the team, having a mix means we can get a full picture of what's going on. We always want to make sure that our customers are at the forefront of what we're doing – it's why we're here.
One of the visualizations that gets the team engaged is the 'Satisfaction over the last 7 days' leaderboard. We've had team-members trying to outdo each other to get to the top, which for me as a manager is great! We're frequently screenshotting the dashboard and having banter in Slack, which is a great way to highlight standout performances, and it brings the team together.
We're also passionate about 'Missed calls' and 'Missed chats'. We really want to get our phone and chat support right, and making sure we're not missing anything is a big part of that. With this on our dashboard, along with 'Agent status', we can see in real time if someone's unable to take a call or chat, and can make changes to offset that.
'Macros used' is an interesting one. We've set Zendesk up so that a tag is added to a ticket when a macro is used, and we can then see how many times this tag has been applied in Geckoboard. This lets us see how efficiently we're working and how much time we're saving by not having to write out responses.
The rest of the dashboard is made up of metrics we're starting to look into, and other things we want to be aware of as part of our goal of providing a great service.
---
Give your support team a boost
With Geckoboard's real-time dashboards, everyone knows exactly what's happening in CS right now.
Find out more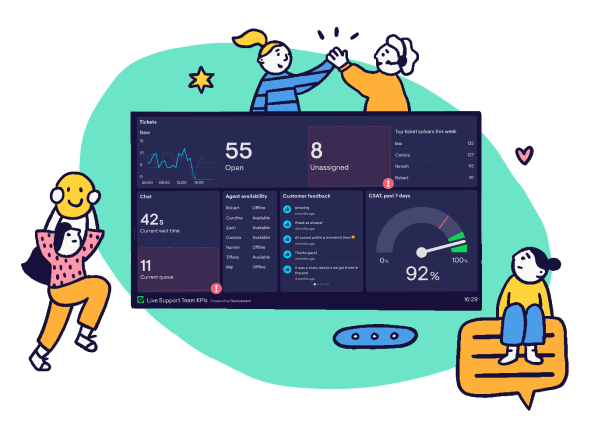 ---
We're really trying to push for transparency in our department, and we realized that being more open with our metrics was key to that. We've got our dashboard next to the team on a 50 inch monitor, so they can see all their metrics in real time. It also means that everyone else in the company can see the results we're generating, so they know we're not just answering emails all day.
This is the third or fourth iteration of the dashboard. It's been a case of finding which metrics do and don't fit, and which ones are most helpful for team development.
When we were first designing the dashboard, we sat down with the team and asked what aspects of the dashboard they liked and what they needed to see. Now we often ask over Slack which metrics the team want, and review the dashboard every few months or if there's something new we've launched. The good thing is, we can easily tailor the dashboard to show exactly what we want.
A specific example of something we changed was our Inbound Today metric. Originally we showed Number of Inbound Requests by channel – per day. But the team said that they didn't need to know this on a daily basis, and it only made sense to see it, at most, once a week. It was taking up precious space on the dashboard, so a more useful metric would be Total Inbound Requests Today. This is what the team really care about – roughly how busy it is today.
Fuels healthy competition between agents to improve customer satisfaction
Helps everyone to balance work and meet demands when channels are busy
Shows the team's impact to the wider company
By being transparent with our metrics in this way, our agents are able to do a better job.