Ticket Backlog
What is Ticket Backlog?
Ticket Backlog refers to unresolved customer support requests in a particular time frame. These tickets remain unresolved beyond the typical response time (for your company) either because of team member performance, ticket volume, and/or dependencies and complexities that require additional time.
Advice from Customer Support Experts
"Backlog is important because every open case means you have a customer waiting to be satisfied and each case has a 'holding cost.'" - Marci Reynolds, EVP of Service Delivery and Customer Experience at ACI Worldwide
"While speed isn't the most important thing in customer service, it does matter. When you're backlogged with support emails, focus on buying yourself more time by responding rather than resolving." - Len Markidan, Head of Marketing at GrooveHQ
How to calculate Ticket Backlog
[ sum of unresolved tickets open longer than (#) days ] = (#) Ticket Backlog
Calculating Ticket Backlog requires knowing what your normal timeframe is for resolving tickets. Whether this is hours or days, you'll want to tally all unresolved tickets that are open longer than this time period.
You might also want to track how long the longest backlogged ticket has been unresolved. To calculate this duration, subtract the ticket open date from today's date to get the number of days open.
Today's date - ticket open date = (#) Days Longest Backlogged Ticket has been Open
Pros:
Tracking Ticket Backlog is an effective way to determine the efficiency of your customer support process and team. Do you have enough team members? Do you need to build out a self-service support center to handle repetitive issues? Does your team need more training or technical skills?
There could be a number of reasons for unresolved tickets lingering in your queue. The important part is knowing that it exists and actively working to reduce your backlog queue to zero.
The longer customers have to wait for an issue to be resolved, more unhappy they're going to be. Monitoring Ticket Backlog (and the number of days they've been open) helps you and your team focus on ways to improve your process and keep customers happy.
Give your support team a boost
With Geckoboard's real-time dashboards, everyone knows exactly what's happening in CS right now.
Find out more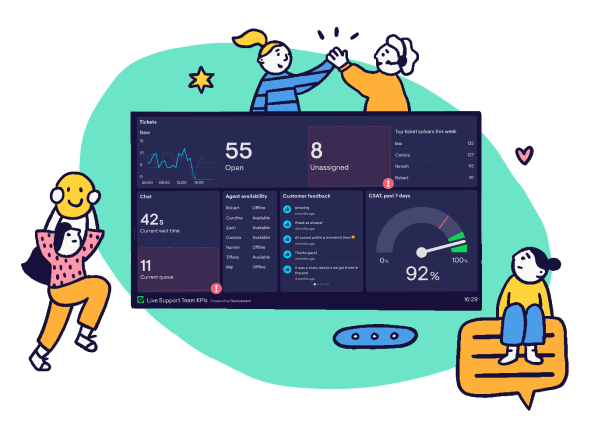 Cons:
Ticket Backlog doesn't take into account the entire ticket queue. In most cases, your support team won't be able to devote 100% of their time to handling Ticket Backlog since they're likely handling other incoming support requests. It's important to track this metric in the context of your support department as a whole - total conversations, number of support team members, and other constraints such as technical skills.
Relevant Customer Support Metrics and KPIs:
If you're adding Ticket Backlog to your support dashboard, you might want to also consider tracking these related customer support metrics for context.
Industry Benchmarks
Any benchmark for Ticket Backlog will vary depending on the company, product, and industry. Of course, the ideal is to keep Ticket Backlog to zero. But that might not be feasible if you don't have the support team to handle the workload or if you're dealing with more complex issues that require a longer than normal resolution time.