Experts have dubbed 2021 the year of "The Great Resignation." The pandemic has been a catalyst for many workers to reassess their values, priorities, and work situation—a 2021 study by The Predictive Index found that "48% of employees have thought about changing careers within the past 12 months."
It's safe to say that HR departments have a lot on their plates right now. As well as managing employee turnover, you have to juggle recruitment, onboarding new employees, monitoring employee performance, and managing all the data that comes with these responsibilities.
We've talked to a lot of HR teams that store all their employee engagement and recruitment-related data in a spreadsheet. While these are great for processing large amounts of data, they're not the most visually attractive to look at. In addition, it can be difficult to share these spreadsheets with other stakeholders and trust that they'll be able to get the insights they need just from numbers in an Excel file.
The solution? A dashboard to visualize your key performance indicators (KPIs) and HR metrics. A human resources dashboard can help you monitor both the hiring pipeline and employee engagement over time to identify areas for concern before they become big issues for the company.
We've put together five human resources dashboard examples to inspire you and help your team build an HR dashboard that gives you visibility into the different areas of focus. For each example, we explain:
The purpose of the dashboard
Some KPIs to include
Choose one (or more) dashboard that best aligns with your needs — and the needs of your human resources team.
1. Recruitment team dashboard
When you're recruiting for several roles at any given time, keeping on top of the pipeline is crucial. This dashboard example gives hiring managers an at-a-glance overview of their team's main KPIs to help you monitor your hiring team's performance. This example is a good fit for startups and scale-ups that need to grow the team quickly, as it makes it easy for them to keep a close eye on their recruitment costs alongside their hiring pipeline.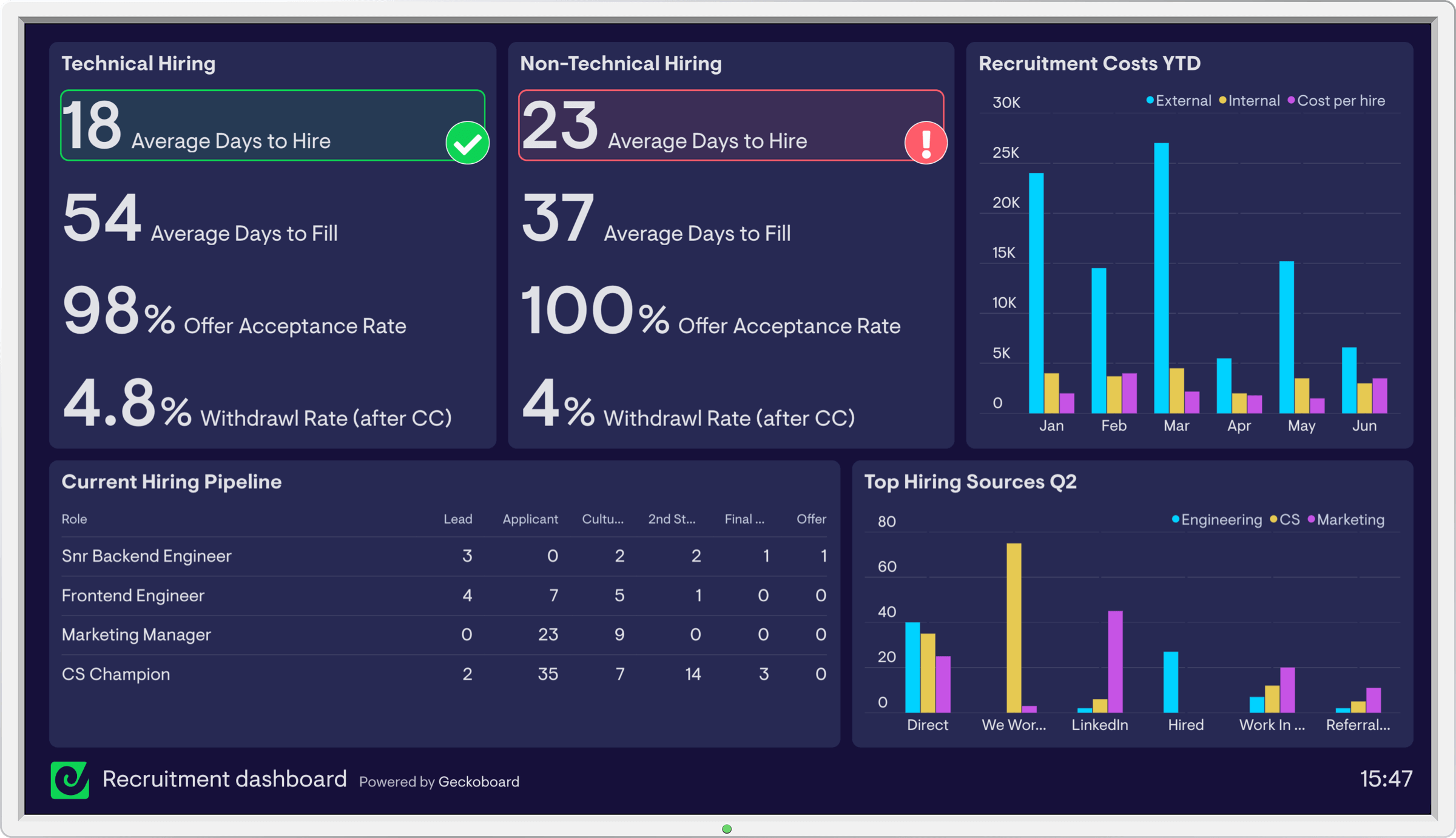 Metrics to include
A dashboard for your hiring team should show your most important HR metrics focusing on the candidate experience and your hiring pipeline. These could include:
Time to hire: Keeping your average time to hire low suggests you're providing a good candidate experience, moving applicants through the hiring process quickly and efficiently rather than keeping them in limbo for weeks on end. Showing this on your dashboard keeps the candidate experience top of mind for your hiring team and makes it easy to see if things start to slow down.
Offer acceptance rate: A low offer acceptance rate suggests your offers aren't competitive. Tracking this on your dashboard means you can quickly identify drops in offer acceptances, giving you a clear sign that it's time to reassess your salary and benefits to make your job offers more attractive to your candidates.
Hiring sources: Is the specialist recruiter you're working with bringing in suitable candidates? Are the job boards a good source of high-quality applicants? Or do most of your successful candidates come from employee referrals? Knowing where you find candidates helps you work out where to advertise upcoming roles. Showing this on your dashboard means you can avoid digging through data in your applicant tracking system every time you need to advertise new roles.
2. Hiring management dashboard
This dashboard gives an alternative overview of your hiring team's performance. It helps you visualize progress toward your quarterly or monthly targets and shows how many hires you've made per month and per department.
For bigger companies hiring lots of roles across different departments or locations, this may be a more effective way to visualize your hiring KPIs than the previous dashboard. It shows more historical data so you can track your progress against past performance and make sure you're on pace.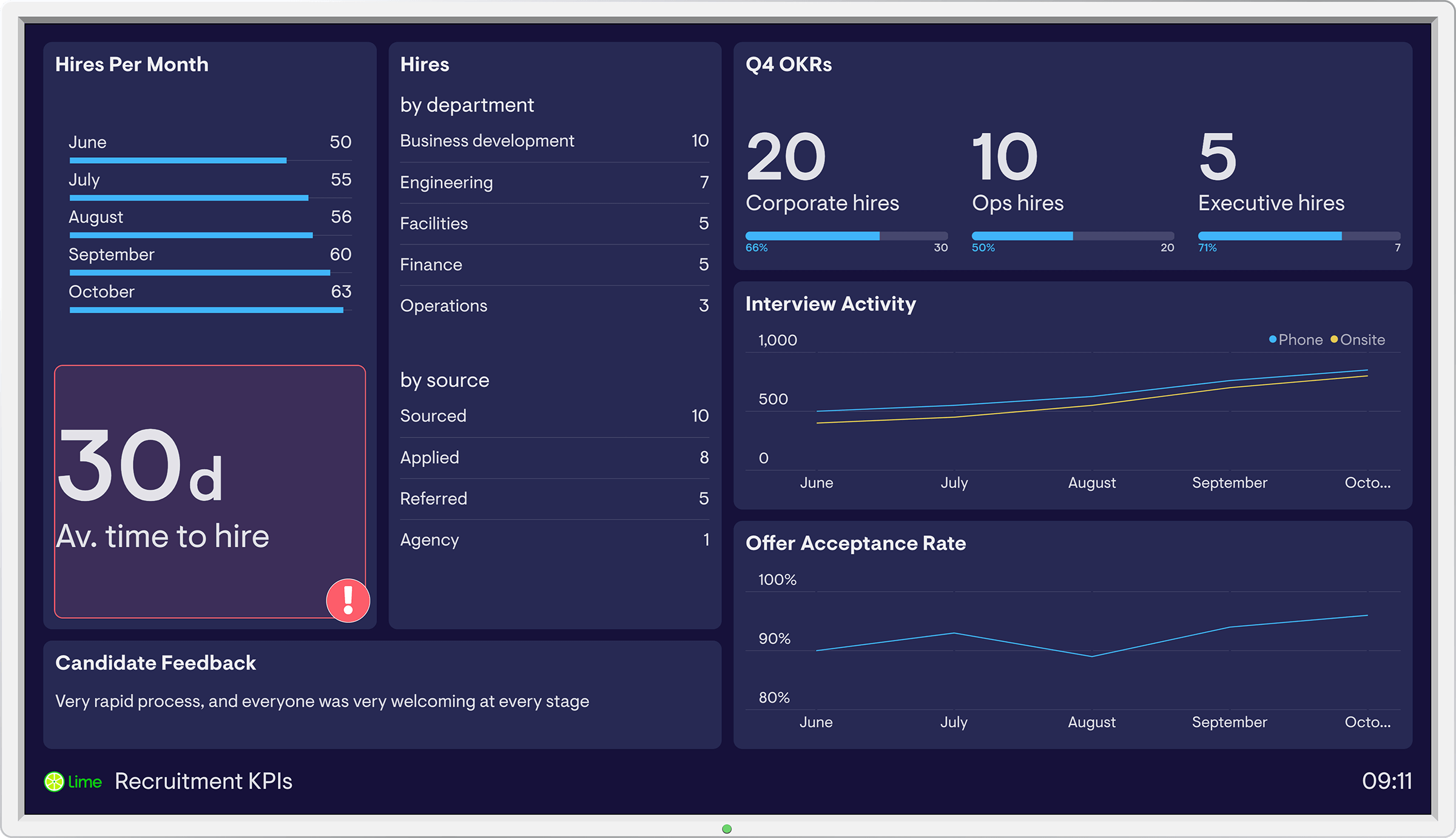 Metrics to include
Use your dashboard to visualize progress toward your recruitment goals and keep large or distributed hiring teams aligned. Some metrics you could display include:
Hires per department: Give your recruitment team an easy way to see the number of hires you have made by department over your targeted recruitment period. Displaying this on your dashboard will help you see if your hiring strategy is effective across all teams or if you need to adapt your hiring processes for certain departments or types of roles.
Progress against hiring goals: If your hiring team has quarterly or monthly targets, showing progress toward your top-level targets helps the whole team understand how you're performing and keeps everyone motivated to work toward hitting those goals.
Candidate feedback: This isn't a metric or KPI, but it can be nice to include on your dashboard as it reminds everyone of the human side of the hiring process. Showing candidate feedback on your dashboard can help your hiring team focus on providing a consistently high-quality experience for all (successful and unsuccessful) candidates in your pipeline.
3. Employee engagement dashboard
Hiring is just one part of the job for HR teams. You're also responsible for building the company culture and monitoring employee satisfaction — a decline in employee happiness may be a precursor to resignations and high staff turnover. This dashboard helps HR teams monitor employee engagement over time and identify warning signs.

Metrics to include
Many companies track employee engagement by sending monthly or quarterly surveys. You could visualize the responses to those surveys on your engagement dashboard. Other metrics include:
Employee Net Promoter Score (eNPS): This measures how likely your employees are to recommend their workplace to their network and gives a simple overview of how engaged and loyal your team is. Fluctuations in eNPS over time helps you see how changes in the organization affect employee satisfaction and loyalty.
eNPS response rate: A low response rate shows that employees aren't engaged with the business. Tracking this on your dashboard gives you an easy way to monitor employee engagement so you can work to re-engage individuals or teams when needed.
Happiest teams: If you split your eNPS responses up by department, you can use that data to see which departments in the company are most (and least) satisfied. Visualize this on your dashboard by creating a leaderboard of the happiest teams. As this changes over time, you'll know to investigate big drops in team happiness.
4. Employee retention dashboard
High employee turnover can cause big headaches across the organization because of the time it takes to replace employees, training costs, and the impact it has on team culture. This dashboard is designed to help HR managers monitor employee retention, so you can work to keep employees in the business long term.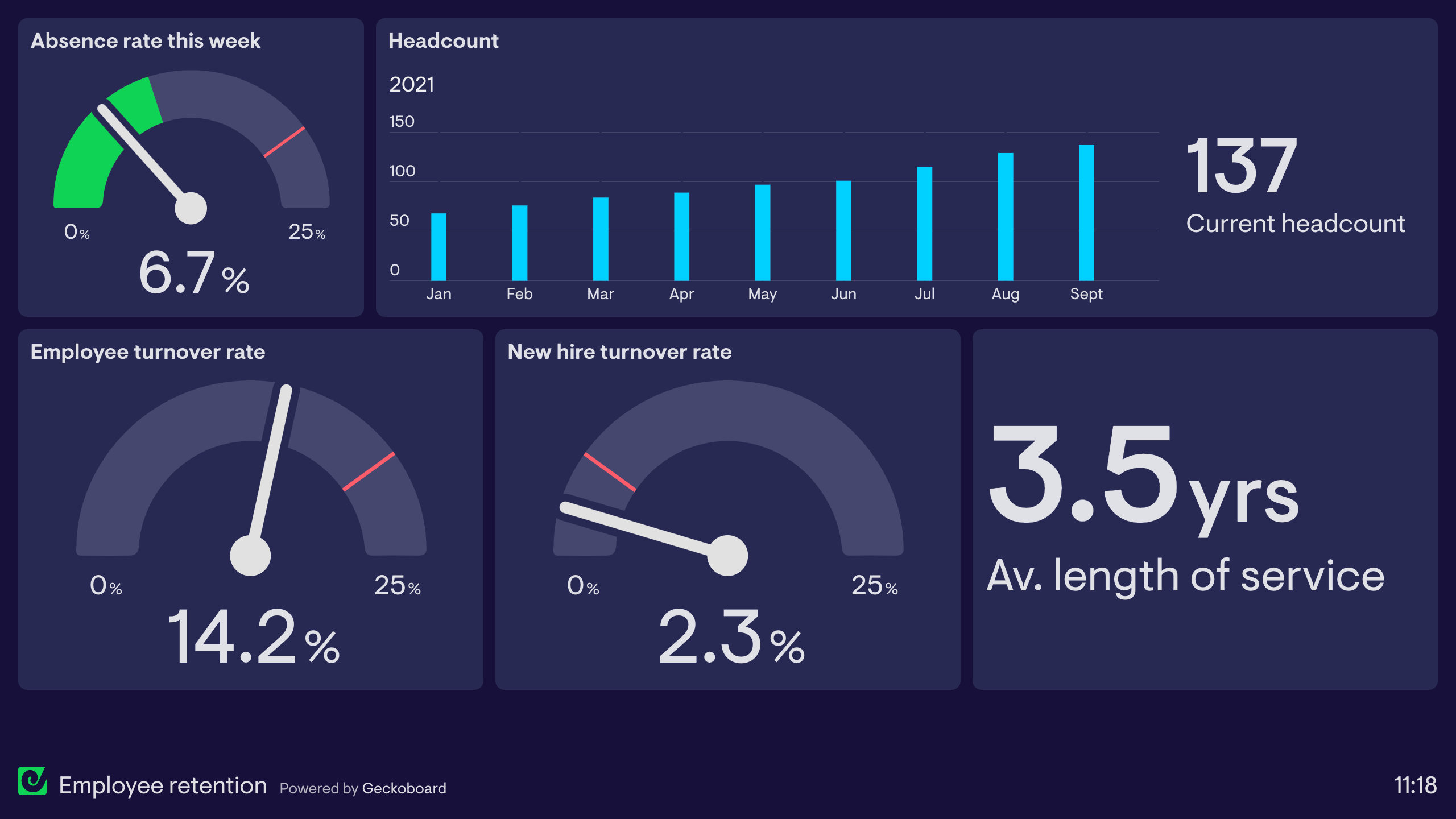 Metrics to include
A dashboard focusing on employee retention should track KPIs relating to team headcounts and employee tenure. These could include:
Average length of service: You want to know how long, on average, employees stay with your company. If this drops, you can look for ways to improve retention. If you have space on your dashboard, you may want to break this down by department or employee level (junior, senior, executive), so you can spot if there are retention issues in particular teams or at particular levels in the business.
Employee turnover rate: This metric tracks the percentage of employees who leave the company within a specific time frame. Tracking turnover rates helps you spot when turnover is trending upward. This can prompt you to look closer at exit interview responses and other data shared by leaving employees to see if you can identify common themes or causes that the company can address to improve retention.
Absence rate: A low absence rate may indicate employees are afraid of taking time off when they're sick, preferring presenteeism that could indicate issues with company culture. In contrast, high rates of absenteeism may indicate another range of issues impacting employee well-being. Tracking absence rate over time on your dashboard will help you spot fluctuations across the team — you could even break it down across departments, as it may reveal problems in specific teams.
5. Careers page dashboard
You can use this dashboard to monitor the performance of your careers page and understand its impact on your recruitment efforts. It combines website analytics data with hiring and pipeline metrics to give hiring or talent acquisition managers a one-page overview of their careers page and current job listings.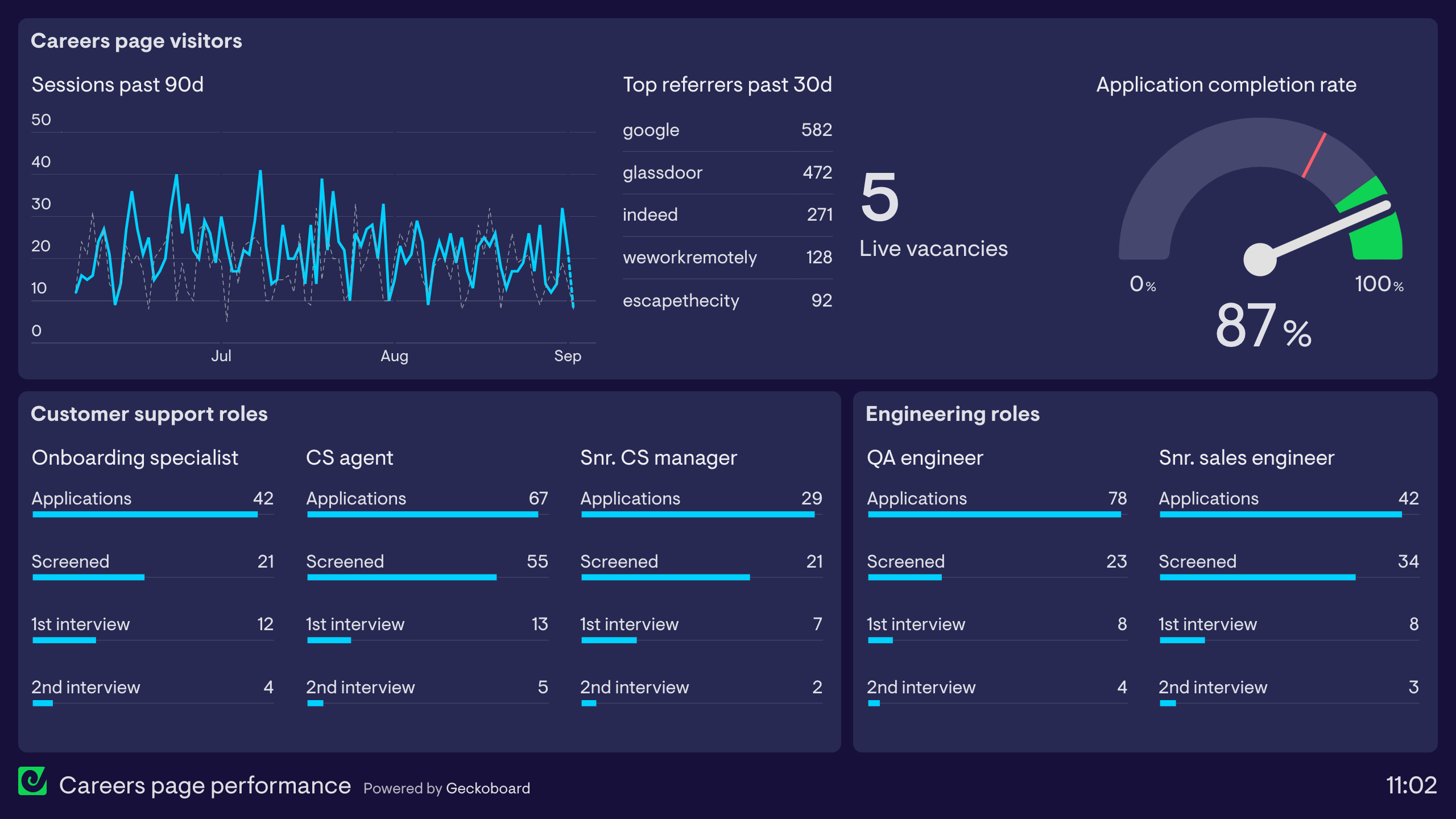 Metrics to include
This dashboard will be most useful when you're hiring for lots of roles at once — you're likely to see more activity on your careers page when you've got plenty of active roles than when you only have one or two open, or you're only accepting speculative applications. Some example metrics to monitor include:
Number of live vacancies: This number is useful to have on your dashboard because it helps contextualize the rest of the data on the board. If you've got a comparatively low number of live vacancies, it's likely you'll see lower activity on your careers page than when you're recruiting for more roles.
Careers page pageviews over time: Track this metric over time to see how other factors, such as the number of vacancies or the types of roles you're hiring for, affect the level of traffic to your site.
Application completion rate: Monitoring this metric on your dashboard helps hiring managers optimize their recruitment processes. If you see a sudden drop in completion rate, you can investigate further: Is it one role that people are dropping off from, or is it across the board? You can use this information to find ways to improve and streamline your processes if you see more people dropping out of the application process.
Help your HR team monitor the metrics that matter
Stop relying on out-of-date and unattractive spreadsheets for your hiring. A dashboard tool like Geckoboard will give your HR team the at-a-glance overview of their pipeline and the progress they need, without needing to spend hours digging through your data to pull out the same insights.
Use one of the above dashboard templates, or mix and match metrics to create your own, and transform your spreadsheet data into attractive, engaging dashboards so you can easily spot trends and changes in your performance and see progress toward your targets.